Belgrade, 30 March 2017
The Faculty of Sport has signed the agreement on cooperation with the Karate Federation of Serbia. Taking into account the fact that since 2020 karate as the sporting event will be included into the Olympics in Tokio, the Faculty of Sport and Karate Federation tend to create necessary preconditions in order to win some of the medals.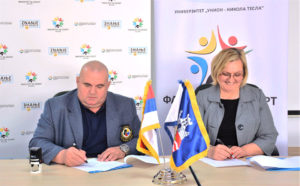 For that purpose it is provided that two women karate representatives get the faculty scholarships. Jovana Vulinovic and Jovana Prekovic have got their student indexes and the trainer Roksanda Atanasov got the scholarship for the MA studies and the opportunity for further improvement.
At the Olympics in Tokio, out of 12 million registered karate practitioners in the world, only the best 30 will participate in all categories. Exhausting preparations are expected in order to make our competitors achieve the Olympic norms and cooperation in that direction with the Faculty of Sport located in Novi Beograd is for us of great significance. First of all is that we pay much attention to the education of our sportsmen and to the further education of our professional staff. By this agreement our students that have got scholarships will not have to worry about that any more and all their energy they could aim at achieving top sports results. In the Karate Federation of Serbia there is a wide range of experts that got their MA and PhD degrees dealing with the subject of karate, and the signing of this agreement is the peak of everything that we have done in that field during the last 15 years – said Slavoljub Piper, the Chairman of the Karate Federation of Serbia.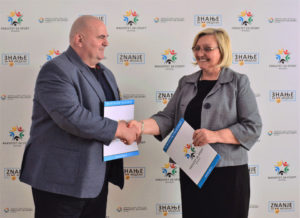 Agreement on cooperation that our Faculty signed with the Karate Federation of Serbia is the 27th protocol of that kind signed with sports federations in our country.
It is a great pleasure that we as the educational institution are recognized by a large number of sports federations in Serbia, which is undoubtedly the proof of our quality – stresses the Dean Prof. Dr Ivanka Gajic and adds:
-We are very proud of providing scholarships to even 38 young and prospective sportsmen among which it is the largest number of them who are the representatives in their sporting events and they have already won medals for our country at the most significant competitions. Fully aware we invest into them i.e. into their education. Today we have got three new students from the world of karate that will have the opportunity to assure themselves about the top conditions of studying that we provide them. Our programs will enable them to fulfill all of their sports duties undisturbingly and to educate at the same time. In that way we have the opportunity to prepare the young people with sports genes and active professional sportsmen to become experts in various fields of sport, and the benefit of that will certainly be multiple Prof. Dr Ivanka Gajic concluded.