Belgrade, 26 January, 2017
Faculty of Sport has continued to expand its network of partners among the higher education institutions. In order to realize academic exchange, the participation of teachers and students in scientific, teaching, publishing and cultural cooperation, Faculty of Sport has signed the Agreement on Cooperation with educational institutions from Travnik – Faculty of Technical Studies and Faculty of Education. This cooperation is to strengthen educational relations, the development of scientific research, the realization of cultural and intellectual capacities and utilization of achievements of institutions of higher education in the field of science.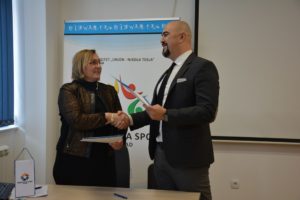 On behalf of the Faculty of Sport the Agreement was signed by the dean, Prof. Dr Ivanka Gajić, whereas on behalf of the Travnik faculties it was done by Prof. Dr Damir Ahmić.
Since its foundation, Faculty of Sport has been putting efforts into developing scientific research activities, which is reflected in the organization of scientific and professional meetings and international conferences. We hope that these activities will be further enriched in cooperation with our new partners from Travnik.