Belgrade, 31 March 2017
Three of our representatives and our students have used their break from the preparation for the upcoming European Wrestling Championship to be held in the city of Novi Sad in May 2 – 7 to consult with their professors in order to fulfill their academic obligations in the April examination period. Wrestlers Davor Štefanek, Aleksandar Maksimović and Viktor Nemeš are the students of the first year at the study course Sports Trainer and besides their professional duties, everyday trainings and frequent journeys to tournaments they manage to coordinate and manage requirements of their subject professors.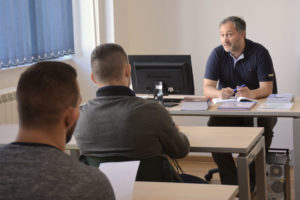 -After very tiresome trainings, our attendance at the Faculty is quite pleasurable. All three of us have used our free time to consult with our professors about the upcoming exams we should take in April. I must express my great gratitude since the Faculty provides us the opportunity to adjust our taking of the exams to our preparations and participation at important competitions – Maksimović said.
Although he has won the brightest of all medals and has fulfilled the dream of every sportsman, Davor Štefanek doesn't plan to stop at that point. He has set the goal to become a top trainer and the Faculty of Sport will help him on that course.
-The main reason that we have chosen the Faculty of Sport is that this educational institution is led by the people that really understand what the professional sport is and what the needs of professional sportsmen are. On the other side, we are aware of the importance of education, all three of us have a wish to work as sports trainers, so we find this a truly winning combination. If there wasn't this kind of a working program that we have at the Faculty of Sport, we wouldn't be able to study for certain. In this way suffers neither our sports career nor education, and my friends from the representation Viktor and Aleksandar and me are the excellent examples for that – Štefanek said.
Our students are preparing for the upcoming European Championship and they hope they will win medals in Novi Sad.
-We expect a quality competition, there will be indeed many good wrestlers. However, our ambitions are high, we wish medals. We have prepared well, we have trained hard and I think that until the beginning of the Championship we will reach an optimal form – Nemeš said.